Your Home for Vacation & Prosperity
CRG Property Management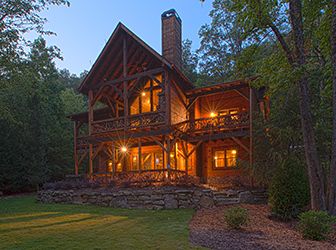 Whether you've spent years making memories in your luxury vacation home or are now looking to purchase one, you already know that Blue Ridge is a truly special place.  Beautiful mountains, a quaint downtown, the Blue Ridge Scenic Railway, a great community filled with wonderful people and a thriving tourist industry are just some of the things that make this area special.  Cabin Rentals of Georgia has had the honor of sharing Blue Ridge with visitors from around the world, for more than 13 years.  

"We love Blue Ridge, GA. We enjoy using the rental team of Cabin Rentals of Georgia. The cabins we choose always are adequately equipped to make our stay so relaxing and comfortable."  — Recent Guest of Bella Vista Lodge

Owning a vacation home can be a rewarding experience when you partner with a professional Blue Ridge property management company like Cabin Rentals of Georgia.  Enjoy the benefits of owning a luxury vacation home, while allowing a proven leader in property management and hospitality handle the marketing, reservations, inspections, professional housekeeping and maintenance scheduling.  Reward yourself with all the benefits of renting your vacation home and none of the hassle!
Cabin Rentals of Georgia sets the standard for professional customer service by providing…
-a dedicated and knowledgeable office staff.
-our mobile guest app, keeping all the information right at their fingertips.
-late office hours 5 nights a week, allowing guests to contact us when it's convenient to them.
-a thorough pre-arrival check-in, warmly staging the home for the guest's arrival.
-an exhaustive post-housekeeping inspection, assuring cleanliness standards are met. 
-the friendly day-after-arrival call, welcoming the guest to Blue Ridge, making certain their stay is as comfortable as possible.  
-a wonderful incentive for returning guests, generating Loyalty Points with each booking, allowing those points to be redeemed for a discount on a future stay. 

"This was a wonderful Experience for those of us that decided to try something new. I would also like to point out that the staff of this establishment are very helpful, not hard to contact and willing to assist with anything… Upon arrival we received a phone call to assure we made it and that all was to our satisfaction. This may seem like little things to most, however it was everything to me. It showed me this staff will make sure their guest are completely covered, comfortable, and satisfied and I appreciate that."  — Recent Guest of All Inspired Lodge
You've made lasting memories in your luxury home over the years.  Now share your home with other families, so they can experience all that is special about your little corner of the world.  Whether it's the vibrant greens of spring, the fireworks of independence, the burning reds and yellows of October or the fresh, crisp, cold air after a January snowfall, your home is waiting to be the centerpiece of more unforgettable memories.  
The first impression of a home begins with how it is presented online.  Allow Cabin Rentals of Georgia to showcase your home in its full glory.  With our industry-leading 3D tours and 25 years of photography excellence, we present your home like it is meant to be.  We highlight everything it has to offer the guests, with a descriptive and complimentary narrative.  The immersive 3D tours allow our guests to walk through your luxury home from the comfort of their own.  Allow the stunning photography of Cabin Rentals of Georgia make a great first impression on the guests.
With over 13 years of experience, building and managing luxury homes in Blue Ridge and the surrounding areas, your vacation home would be a nice addition to our high-end, growing portfolio.  Couple the experience with our dedication and strong, active marketing campaigns, and you have found the Blue Ridge property management partner who will maximize your profits while minimizing the costs of renting your vacation home.  Let Cabin Rentals of Georgia help your luxury home realize its full potential.